---


Le Pan™ Launches Next-Generation Le Pan™ S 8GB Tablet with Wi-Fi Starting at Under $240
Get ready for the next-generation Android tablet from Le Pan™ – the Le Pan™ S – it's amazingly fast, incredibly responsive, and soon available in four new colors: black, white, pink and purple.
Los Angeles, CA– Sep. 16, 2012 – Le Pan™, maker of the award-winning Le Pan™ and Le Pan™ II tablets, today announces next month's release of the Le Pan™ S, a 9.7-inch, dual-core processor powered Android tablet that comes in four fun new colors: black, white, pink and purple.
The Le Pan™ S is the first tablet from Le Pan's product line-up to debut with Android 4.0 Ice Cream Sandwich (factory updated to version 4.0.3), the newest version of Android currently available on the market. The next-generation Le Pan™ S tablet has a retail price of $239.99 for the 8GB model (4GB built-in storage plus 4GB storage on the included Micro SD card), and will be available at retailers nationwide starting in mid-August.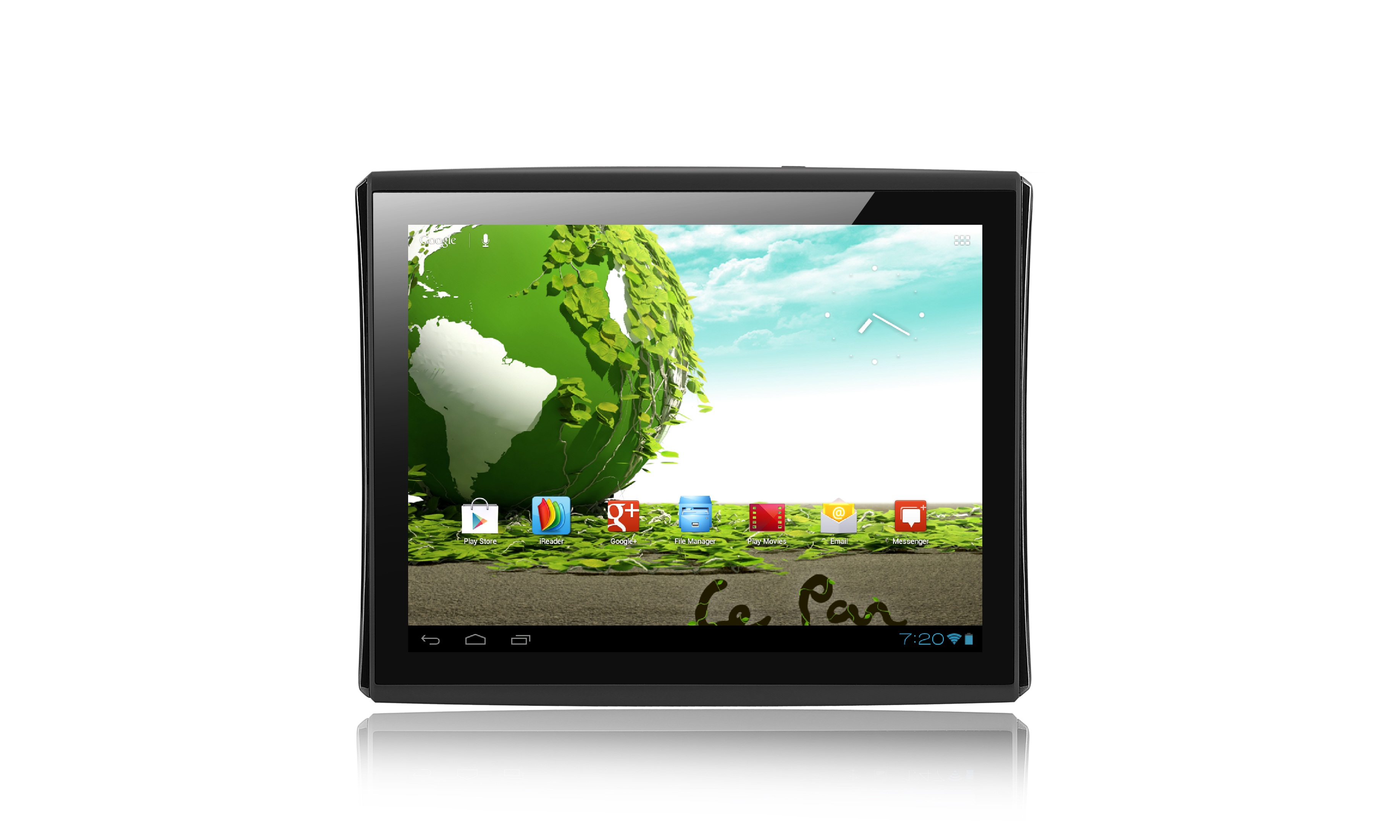 "The new Le Pan S tablet was designed from the ground up with the active, modern lifestyle in mind," explains Bin Wang, GM of Le Pan. "In developing this new model, we sought to put together the best blend of hardware, software and design we could at a highly affordable price. I believe we have found that sweet spot with the Le Pan S."
Le Pan™ S, powered by a low-power, high-performance dual-core Texas Instrument processor along with 1GB RAM, features a 9.7-inch LED-backlit glossy widescreen multi-touch display with 1024-by-768 resolution, like the ultra-high-resolution display on the award-winning Le Pan™ II. The device also features Wi-Fi (802.11 b/g/n), Bluetooth 4.0, GPS, accelerometer, g-sensor, light sensor and a 2.0 megapixel front-facing camera. Support for HDMI (optional adapter required), and additional storage (optional Micro SD card up to 32GB) is available. A built-in high capacity lithium battery (6800 mAh) provides up to 7 hours of battery life on a single charge.
One of the few Android tablets on the market with Google Mobile Service (GMS) certification, the Le Pan™ S has gone through rigorous hardware and software testing by Google to ensure the quality of the product. With a GMS-certified tablet, users get access to the official Google marketplace, Google Play, with over 600,000 apps to date.
Amazingly Fast
The new Le Pan™ S is amazingly fast with a dual-core processor and 1GB RAM. With snappy performance, the device is optimized for work, play and content from Google Play, including books, games TV shows, movies, apps and magazines.
Incredibly Responsive
Not only is the display beautiful to look at from any angle, the large multi-touch screen on the Le Pan™ S is incredibly responsive and easy to use. Hours of web-surfing, video watching, music streaming and more is just a touch, swipe or flick away.
Personality Meets Design
Available in four colors – black, white, pink and purple – Le Pan™ S owners can enjoy life on the go with a device that suits his or her personality. The soft touch plastic casing on the Le Pan™ S is designed to be durable yet easy to hold every day.
For more information on the new Le Pan™ S, please visit here.
About Le Pan™
Le Pan™ blends lifestyle and quality into consumer technology devices that are engineered with superb craftsmanship, exquisite attention to detail and impeccable style. Inspired by the active, modern lifestyle, the entire lineup of sleek and powerful Le Pan™ products is designed to keep you connected and entertained on-the-go.
Pricing, features and product specifications are subject to change without notice or obligation. Le Pan and the Le Pan logo are registered trademarks or trademarks of Matsunichi Digital USA, Inc. Android is a trademark of Google, Inc. All other trademarks are the property of their respective owners.
---